About PFC's CSA:
Providence Farm Collective is now accepting sign-ups for the 2023 Summer CSA!  Please see below for details.
What is a CSA?
Community-supported agriculture (CSA) is a system in which farmers partner with community members to provide a local source of fresh produce.  Community members that buy a CSA share receive a variety of freshly picked farm produce weekly throughout the growing season.
At PFC your CSA share will consist of crops grown by many different farmers including your standard NY favorites and crops representative of PFC's culturally diverse farmers.
Why Choose PFC's CSA?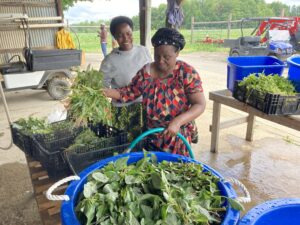 Our CSA is unique in that we support beginning & underserved farmers in accessing land, education, and markets to build their farm business!  Our farmers come from a wide range of backgrounds and experiences, and most have a strong agricultural heritage in their country of birth.  PFC's farmers love to farm!  Despite nearly all of our farmers having full time jobs off-farm, they are farming in their off-time to build food-security within the community, to grow culturally important crops, and to earn supplemental income.

Details:
Price: $500
Duration: 18 weeks (June 5 – October 2)
Pickup Time: Mondays from 3-6pm*
Pickup Location: 5701 Burton Rd, Orchard Park
*Can't make it by 6pm?  We can leave your share out and labeled for pickup Monday evening
Example CSA Shares