Providence Farm Collective (PFC) is now accepting applications for individuals, communities, and organizations that would like access to farmland!  Applications are due January 1st, 2021
For help with your application, please contact Beth Leipler at providencefarmcollective@gmail.com or 716-536-9088
PFC is accepting applications for two programs:
Incubator Program Application– PFC is accepting up to four new farmers for its incubator farm program! PFC's 3-year incubator program offers beginning farmers a ¼ acre turnkey plot of farmland and the resources and support needed for a successful growing season. Partners wanting to farm a ¼ acre will also be considered. More information on this program can be found at the bottom of this page.
Community Organization Plot Program Application – community plot application PFC – PFC is accepting up to two new organizations to join PFC's farm in 2021! Through this program, PFC provides organizations with 1-acre plots of prepared farmland. Community organizations and nonprofit organizations that would like access to farmland and farming resources are encouraged to apply. Organizations may farm and market products as they see fit, given that their participation in the program is benefiting underserved individuals and communities.  More information below.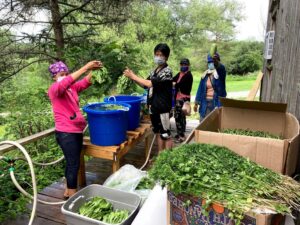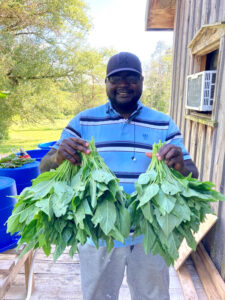 What community organizations get:
Up to one acre of fenced, fertilized, and plowed farmland
Access to hand tools
Some seeds and transplants
Access to agricultural workshop series (with pre-registration)
Technical assistance and marketing support
Requirements for community organizations:
50 volunteer hours through participation in PFC volunteer days
Designated individual to act as a liaison between the partner organization and PFC
Participation in PFC orientation
Transportation to and from PFC
Maintain a clean and presentable plot of land
Adherence to good agricultural practices
Maintain records as required by PFC
Ability to purchase any extra tools or materials needed
What incubator farmers get:
Up to a 1/4 acre plot of fenced, fertilized, and plowed
farmland
Access to a wide array of hand tools
Select seeds and transplants
Agricultural training through a series of workshops
1-on-1 technical assistance and business support throughout the season
Assistance accessing markets
Opportunity for tenancy at PFC upon completion and continued good standing
Requirements for Incubator Farmers:
20 hours of volunteer work on PFC's demonstration farm
Participation in a 6-workshop business series
Participation in a 8-workshop crop production series
Maintain a clean and presentable ¼ acre plot
Adherence to good agricultural practices
Maintain records as required by PFC
Attendance at 1-hr per month incubator farmer meeting